HOME /
What are Bluetooth 5.0 TWS headset solutions? See second understand
What are Bluetooth 5.0 TWS headset solutions? See second understand
time:2018-08-15 key:DIBEI View: 6961
Bluetooth is a wireless transmission technology. It can theoretically connect devices about 100 meters farthest to each other for a short distance. In fact, we usually use small devices with an effective distance of about 10 meters. Bluetooth's greatest feature is that it enables mobile communication devices and computers to connect to the Internet without the help of cables and transmit data and information. It is widely used in mobile phones, media players and various smart homes. The new Bluetooth 5.0 can not only downward compatible with older versions of products, but also bring the advantages of higher speed and longer transmission distance.
Compared with the previous Bluetooth 4.2, Bluetooth 5.0 has longer transmission distance and faster speed. The theoretical effective distance is 300 meters, which means that mobile devices in the whole home or office can be connected stably. In terms of transmission rate and delay, there are also great improvements and optimization, which can make it possible for wireless device applications that need to transmit more information and respond faster.
In practical use, the high transmission bandwidth of Bluetooth 5.0 also makes it possible for TWS real wireless Bluetooth headset to make bilateral calls. In addition, higher bit rate audio playback is also naturally not in question. Next, I love the audio network to lead you to understand the main chips of Bluetooth 5.0 TWS real wireless Bluetooth headset on the market.
According to the statistics of I Love Audio Network, Bluetooth 5.0 has been supported on 21 mobile phone hardware of 8 major brands, which lays a solid foundation for the explosive growth of Bluetooth 5.0 product market in the next few years. Please refer to the list for specific product models.
BES Hengxuan BES2300 is a fully integrated adaptive active noise reduction scheme. It supports Bluetooth 5.0, LBRT low-frequency forwarding technology and dual-mode Bluetooth 4.2. It also supports the third generation FWS all-wireless stereo technology, dual microphone, etc. It is packaged in 28nm, BGA. Supporting noise reduction technology, especially high-performance adaptive active noise reduction technology, can enable high-end active noise reduction headphones to use a fully integrated chip to achieve high-quality and active noise reduction.
BES Hengxuan BES2300 also supports external heart rate sensors, acceleration sensors and other external sensor devices and eMMC flash memory, which can achieve the purpose of playing music by external storage devices. BES Hengxuan BES2300 can output sound to headphones and home audio, or record from an external microphone.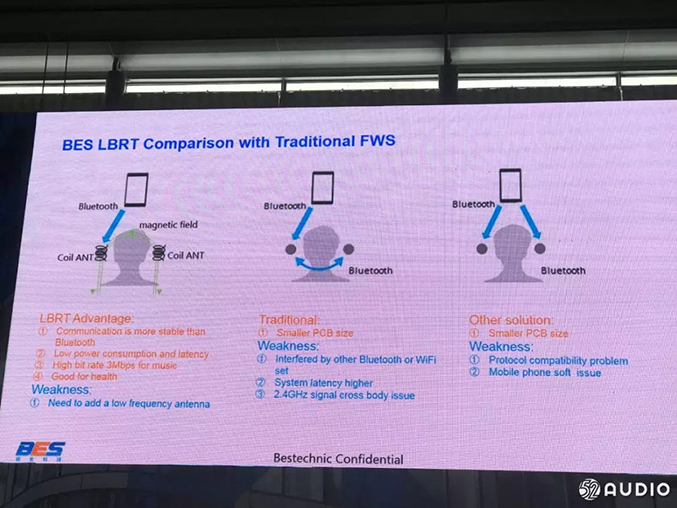 In addition, LBRT (Low Band (10-15MHz) Bluetooth Retransmission Technology) is used between the main and auxiliary headphones of BES Hengshan BES2300. LBRT low-frequency forwarding technology uses low-frequency band to connect the main headset and the auxiliary headset. Specifically, the audio is transmitted to the main headset through Bluetooth through the traditional way, and then synchronizes the main headset and the auxiliary headset through the low-frequency forwarding technology.
RTL8763B is REALTEK Ruiyu's first complete TWS true wireless Bluetooth headset integration scheme, supporting Bluetooth 5.0, HFP 1.7, HSP 1.2, A2DP 1.3, AVRDP 1.6, SPP 1.2, PDAP 1.0, with dual-ear communication function. RTL8763B has 32-bit ARM processor, 24-bit DSP, the highest frequency of 160MHz, built-in 8Mbits Flash memory.
It also has built-in lithium battery charging management, built-in overvoltage, overcurrent, undervoltage protection and other battery protection devices. In terms of scalability, it supports three-way LED driver, touch IC control, analog and digital microphone input, and dual microphones. In terms of noise reduction, supporting noise reduction function and environmental sound monitoring mode can be said to be a high-performance all-round TWS true wireless Bluetooth headset integration scheme.
3、Airoha络达AB1526P
Airoha Loda AB1526P supports Bluetooth V5.0. It has built-in baseband and transmitter for high fidelity audio applications, and supports broadband voice defined by dual microphones for better noise reduction and echo cancellation performance. Support A2DP, HFP, HSP and AVRCP. AB1526P embedded serial flash memory, more flexible support for customer software upgrade and third-party software porting.
凭借优化的MCU结构,接口布局和更好的DSP算法,AB1526P在大多数蓝牙音频应用中提供了更高的性能和语音和音乐质量。另外,比起前代AB1526,AB1526P,支持TWS一拖二和双边通话。
Qualcomm Qualcomm Qualcomm CSR8675 supports Bluetooth V5.0 version, and for the first time introduced active noise reduction technology on CSR chip, making it the first Bluetooth audio system-level chip integrated with ANC function in the world.
This new SoC fully integrated feature makes it unnecessary to configure an independent ANC chip, reduces the complex cost of active noise reduction technology in headphones, and enables manufacturers to achieve good sound quality and noise reduction effect in smaller product designs.
CSR8675 includes an upgraded version of the digital signal processor core. Compared with the previous generation of 80MIPS DSP, its processing performance is up to 120 MIPS. Therefore, the new Qualcomm CSR8675 can support advanced audio processing algorithms, thus providing enhanced audio performance with ultra-high quality.
In addition, SoC supports 24 bit digital audio. The high-performance core enables devices based on CSR 8675 to output high-definition audio, thus meeting the growing needs of high-end users. Because the chip also supports aptX HD low latency technology, it can use wireless headphones to watch video almost without delay.
5、Qualcomm高通QCC3026

Qualcomm Qualcomm Qualcomm Qualcomm QCC3026 supports Bluetooth V5.0, and carries enhanced Qualcomm True Wireless stereo technology, which can provide better performance with lower power consumption and higher cost performance. In terms of binaural connection, the enhanced Qualcomm True Wireless stereo protocol and improved radio frequency provide a stable overall wireless connection, bringing a more low-latency experience of simultaneous playback of dual headphones.
For audio transmission, the higher transmission bandwidth of Bluetooth V5.0 can better support Qualcomm aptX audio technology and enjoy higher quality wireless Bluetooth audio. Qualcomm cVc noise reduction technology supports background noise and echo suppression to create a quieter and seamless user experience.
6、ActionsThe mysterious new torch core will appear next week?
This is Torch Core's first TWS Bluetooth 5.0 chip. What kind of experience will his debut bring to the market? Let's wait and see.
Generally speaking, each chip manufacturer has its own characteristics in addition to Bluetooth version and performance improvement.
BES2300 from BES Hengxuan supports LBRT low-frequency forwarding technology, which can better synchronize the left and right headphones; RTL8763B from REALTEK Ruiyu, an old audio factory, is a high-performance, all-round Bluetooth audio chip with good compatibility; AB1526P from Airoha network can support customers'third-party applications more flexibly, but also has a relatively high degree of compatibility. Cost performance ratio.
CSR8675, from Qualcomm Qualcomm Qualcomm Qualcomm Qualcomm Qualcomm Qualcomm Qualcomm Qualcomm True Wireless TWS, directly integrates the active noise reduction function in this chip, which saves customers valuable headphone space and has high-performance active noise reduction function at the same time. Qualcomm Qualcomm Qualcomm QCC3026 supports enhanced Qualcomm True Wireless TWS true wireless technology, which can bring better stability of binaural connection and enjoy lower latency and more. High-quality true wireless audio.
Of course, there will be new Bluetooth V5.0 solutions emerging in the market. They may be improving in delay, transmission bandwidth or binaural connection. I love the audio network will continue to pay attention to and update these new solutions, please pay attention to them.