HOME /
TWS Trend Forecast for 2019, Second Half Annual Feature of Photo Wireless Headphones
TWS Trend Forecast for 2019, Second Half Annual Feature of Photo Wireless Headphones
time:2018-12-28 key:DIBEI View: 1900
The day before, we released our annual feature "The Second Half of True Wireless Headphones: Noise Reduction, HD Audio, Voice... In order to reach or even surpass the level of wired headphones, we have initially solved the problems of TWS Bluetooth headset in single chip scheme, wireless Bluetooth signal transmission and so on. The next trend is summarized, which can be summarized as the following nine points:
Noise reduction: To meet the needs of filtering ambient sound in a noisy environment.
HD Audio: To meet people's inherent audio quality needs of audio equipment. At present, the main HD audio codec technologies provided by manufacturers include Sony LDAC, Qualcomm aptX HD and Huawei HWA.

Low power consumption: Wearable devices themselves need independent power supply, voice AI online and other attributes to put forward low power requirements for devices. Qualcomm, Lou's Electronics, Airoha Luda Technologies and Heng Xuan Technologies (BES) have launched low power chips for small devices this year.
Low latency: especially in games and video scenes. At present, the main scheme is Qualcomm's aptX Adaptive audio codec technology (which can control the sound delay between 50 and 80 milliseconds).

Voice Local Wake-up: Most voice AI manufacturers use headphones as a wearable accompanying scenario, as one of the AI capabilities. In view of the limitation of power consumption and capacity of voice AI headphones for end-to-end and edge-to-edge computing capabilities, migrating the original cloud-based algorithms to end-to-end still requires the impetus of chip manufacturers.
Hand-free answering and dialing: It's a more comfortable position to use headphones instead of putting the phone next to your ear. In the future, the combination of TWS and VIOP may become more popular.
Health tracking, AI Avatar "AI Coach": Heart rate sensor is added to headphones to provide users with heart rate detection, real-time data feedback (heart rate, steps), heart rate abnormality reminders, etc. Depending on big data and AI algorithm, voice AI can also act as your "accompanying coach".

AI Translator: In October this year, Google officially announced that it would open its unique translation function on Pixel Buds to all headphones that support Google Assistant. This authoritative platform is currently the best choice for manufacturers interested in doing translation headphones and products to go to sea.

Voice payment based on bone voiceprint ID technology: As a novel user identification detection scheme, bone voiceprint ID has the characteristics of high security. Compared with voiceprint recognition, this detection technology is more suitable for the voice payment scenario at the earphone end, and can achieve more reliable applications with the functions of unlocking mobile phones.

In the follow-up exchanges with TWS headphone industry practitioners, experts and readers, we continue to explore several other trends. Therefore, continuing the enthusiasm of the previous article, we supplement this article, which can be summarized as follows:

Trend # 10:Intelligent Watch + Intelligent Earphone Network Terminal Combination
In 2017, Apple released its new generation of Apple Watch 3, which supports cellular networks for the first time and has independent communications capabilities. Secondly, Apple Watch 3 + AirPods wireless headset, which is the "combination of heaven" in mobile scenarios, is also expected to take over from mobile phones for tasks such as phone calls, payment, viewing information, etc. It is especially suitable for the sub-scenario of out-of-town sports.
The combination of headphones and watches, the first TalkBand B series Bracelet launched in China in 2014, also has a rudimentary form - the bracelet host can be dismantled and transformed into a stand-alone Bluetooth headset. This year, Huawei TalkBand B series has been updated to B5 model.
△ 华为 TalkBand B5 手环耳机二合一,支持蓝牙通话、运动监测等功能
Like Apple, there are TWS headphones + smart watches and going out to ask questions. Last month, we launched TicWatch Pro 4G smart watches that support the dual terminals of 4eSIM 1, which can also be used with TicPods Free and TicPod Solo, which launched wireless smart headphones earlier this year.
△ TicWatch Pro 4G 版智能手表+TicPods Free
Wu Yujin, general manager of the audio business department, said that such a product portfolio can bring users a fast and portable experience, especially in the scene of inconvenient use of mobile phones such as cycling and running. In addition, watches and headphones linkage, diversified and fragmented networking methods break the monopoly of mobile phones on the whole networking time, and can alleviate the mobile phone to a certain extent. Digital anxiety.

However, this form is still in its infancy, and the definition of functional scenarios, or the traditional usage habits of users, is not mature enough. It needs time to educate users. Moreover, the endurance of smart watches itself is a pain point, in the case of connecting headphones, power consumption will be faster, watch ecology is not as perfect as mobile phones, in the watches and headphones linkage can be used independently of the scene is still mainly on the phone, music, payment, sports health and so on.

Wu Yujin also mentioned that the high independence of watches helps to get rid of the dependence of mobile phones and enhance the application value of the devices themselves. For this reason, TicWatch Pro 4G smart watch integrates TicPay wrist payment function and has an independent Netease Cloud Music Watch APP, which can independently complete payment and play cloud music.

Li Zhifei, CEO of the company, once expressed his preference for the combination of "smart watch + wireless headset" networked terminals. He believed that with the popularity of new mobile communication technologies, such as eSIM 1 multi-terminal and future 5G commercial applications, the cost of wearable AI devices for independent communication was significantly reduced. Wearable AI, especially the "wrist + ear" combination of smart watches and smart headphones, will truly replace smart phones and become one of the most important networking terminals in people's lives.

Trend # 11:Increase the hearing aid function, change the situation that hearing aid equipment is generally expensive
Influenced by the consumer earphone market, the status quo of medical-grade hearing aids monopolized by traditional hearing-aid companies is expected to change because of their complex functions and generally expensive prices.
For Internet companies, as early as 2014, Apple made efforts from the mobile software side: the iOS side launched Live Listen hearing aids, with MFi-certified hearing aids on the market, the iPhone can start a directional microphone, pick up audio and transmit it to the hearing aids.
This year, Apple's specially upgraded iOS 12 provided support for AirPods, which means that AirPods can also serve as a primary hearing aid.

It is reported that Google is also working with Danish company GN Hearing to develop a new protocol for Android systems to better cooperate with hearing aids.
Through the combination of mobile phone and wireless headset, the visual APP on the mobile phone supports sound pickup adjustment, which reduces the difficulty of using hearing aid headphones to a certain extent, simplifies the operation and reduces the cost.
For equipment manufacturers, Nuheara, an Australian start-up, launched IQBuds in 2016, a wireless hearing aid (also a product form of TWS) with common Bluetooth headset capabilities, which supports listening to music and personalized voice enhancement adjustments on APP.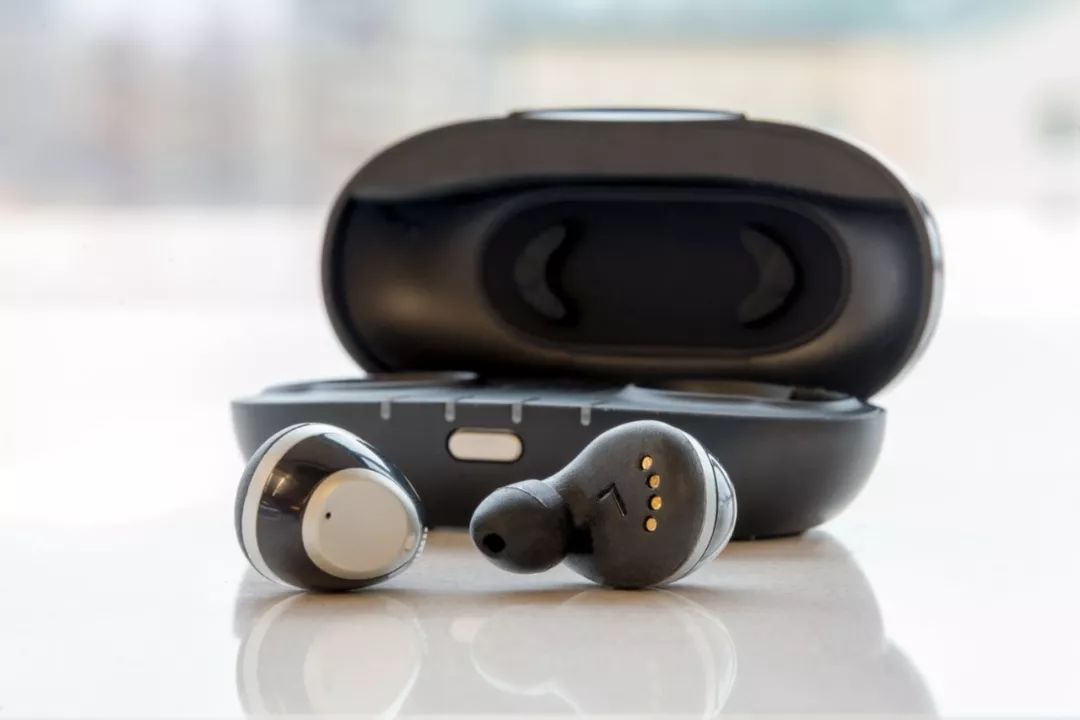 △ IQBuds
When talking about Nuheara's technological route, Ke Yizhen, marketing director of Xiamen Rui Hearing Technology Co., Ltd., pointed out that Nuheara uses chips to carry functions of noise reduction and feedback. App side introduces a common matching algorithm in the hearing aid industry, which allows users to do hearing tests directly through APP, based on which the effect of headphones can be adjusted.
Ke Yizhen said that Nuheara has achieved good market results and achieved certain results from the entry point of listening assistance. It is reported that Nuheara's headphones have been sold in hearing centers in Europe, into the NHS health system in Britain and the social security system in Australia.
Sony and Wandemo also entered the market one after another. The former launched SMR-10 neck-mounted hearing aid headphones last year, while the latter, in November this year, built its first wireless smart hearing aid headphones in conjunction with Pro Acoustics technology, announcing that they have officially set foot in the field of wireless smart hearing aid headphones.

△ 索尼 SMR-10 颈挂式助听耳机,不支持听音乐功能
In this regard, the circle of the domestic listening industry has also had a small discussion once. As a transitional product of the listening industry, more Headphone Companies may be involved in the future. The sooner you enter the game, the better you have the advantage of being a first mover. After all, Nuheara will not be able to enter China in the near future.
Trend # 12:Smart use of sensors to develop new ways of interaction and play
As an important hardware foundation of artificial intelligence technology, sensors play a decisive role in the application of headphones. At present, the common applications of smart sensors in headphones include optical sensors (ear detection), Hall sensors (automatic start-stop), gyroscopes (recognition of motion type, state), heart rate sensors (heart rate monitoring), etc.

Taking AirPods as an example, the headphones are equipped with voice acceleration sensors and optical sensors. They cooperate with microphones, sensors and high-performance, low-power Apple W1 chips to realize automatic induction and control, realize portable functions such as voice enhancement and fast matching, thus bringing users a good seamless connection experience.

In addition to AirPods and the applications of heart rate sensors and gyroscopes mentioned in the previous article in the field of wireless mobile headphones, we can see the innovative applications of sensors in TWS headphones from some products at present.

Among them, the German headset brand Bragi last year released a true wireless Bluetooth headset The Dash Pro. One of its features is that the 27 sensors encapsulated in the fuselage can help drive the dynamic user interface and control the virtual 4D menu by shaking the head, such as setting shaking the head to refuse to answer the phone/switching songs, nodding to answer the phone and so on.

△ The Dash Pro: It combines translation, heart rate monitoring, IPX7 waterproof, long endurance (with charging box for 30h), 4G local storage and other major selling points.
Trend # 13:Small moving iron loudspeaker
Moving iron has always been the best choice for hearing aids. As the inventor of moving iron unit, Lou's Electronics has been promoting the application of moving iron unit in the field of consumer headphones in recent years, including Meizu, AKG, millet, SONY, Bragi etc.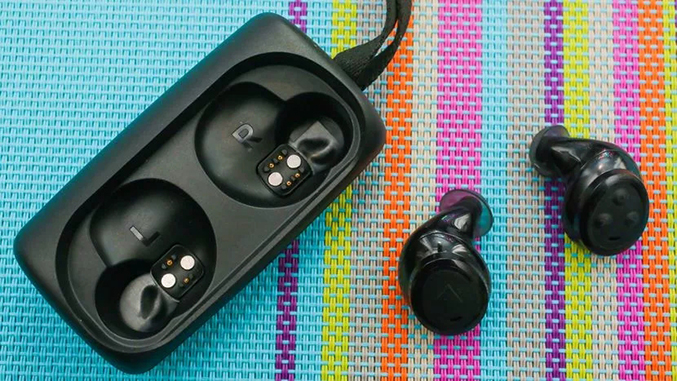 △ Bragi Real Wireless Headset with Lou's Moving Iron Unit, Picture Source: CNet
According to Xijinmiao, manager of Lou's electronic market development, although the technology of moving iron unit is complex, it is small, and it is a complete acoustic system. There is no need to reserve additional front and rear cavity acoustic structure, so it can be directly put into the sound tube. In terms of structure design, more elegant design, larger batteries and better antennas are provided for wireless earplugs, which make more space.
Secondly, it has high sensitivity and low power consumption, and input the same current. Compared with the small moving coil unit, the moving iron unit can provide more loud sound, which has positive significance for improving the wireless earplug's endurance.
In an interview with Shenzhen Bay last month, Andrew Belawi, director of global market development for Lou's smart headphones, said that the small, low-power and high-quality Lou's moving iron unit would provide strong support for the future development of TWS real wireless headphones.

Epilogue
As for the future development trend of TWS headphones, we are still discussing. We also welcome people from all walks of life to come and interact with us